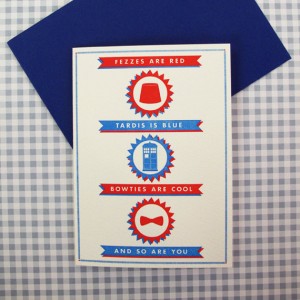 Valentine's Day is a bit rubbish. We all know this. It's an added expense for those of us in couples recovering from Christmas, and an entire day of smugness for the singletons to live through.
Romance isn't rubbish though. It's pretty essential. Even if it's less about chocolates and flowers, and more about having a duvet day with a Doctor Who marathon.
If you would like to treat your other half to a little something romantic on Valentine's Day, or any day really, here are a few suggestions…
Last Minute.com vouchers
I know some people frown upon vouchers. But given the choice between picking a trip to the theatre/spa day/zorbing experience (delete where appropriate) and unwrapping a set of badly chosen underwear from Ann Summers, I think most people would plump for the first option. Go for the Lastminute.com vouchers.
Drive Through Flowers
Hey Londoners! You might want to check out Jillian's Flower Station post.
Surprise them with a tweet
Nope, I'm not being entirely lazy here. JJ from This Little Lady has alerted me that Not On The High Street are running a special event where people who tweet them using the #tweetheart tag, will have their tweets turned into a song. The song will be performed for their loved one by a choir, band or a mime in the location of your choice.
Subscribe them
If you like the idea of treating your Mr or Ms to regular gifts, a subscription might be just the ticket.
Choose from a cheese subscription, Deluxe Bite box, Not Another Bill, The Fancy Box. The Knicker Issue solves the dodgy underwear issue.
Want your man to dump you? Get him a sock subscription.
Make something
Check out our craft section for plenty of ideas of things that you can make your beloved on a budget.
I also like the idea of these cookie dough truffles and the Shooter's Sandwich (sandwich of DREAMS)