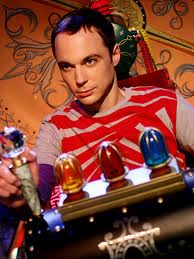 I'm going to go out on a limb and state that I have yet to find a self-confessed dork who doesn't love The Big Bang Theory.
The geek-culture references peppered through the show have been meticulously researched, right down to the clothes the characters wear.
Although Dr Sheldon Cooper PhD might not be quite enough of a style icon to make it into our Dork Fashion Icon series, his wide range of ultra nerdy T-shirts have inspired quite a lot of envy in me.
Step in Sheldon Tees, a website that makes it possible to recreate that physics geek look in your own wardrobe.
Rather than being a retail site, Sheldon Tees catalogues the shirts with links leading to the appropriate site to purchase them.
It has  a wide selection of T-shirts worn by Sheldon in the show, as well as a few inspired by the character and series (and some choice belt buckles as modelled by dubious style icon Howard Wolowitz).
I'd definitely recommend going and checking out the range yourself, but until then I've put together a selection of my favorites after the jump.
1. Where would Sheldon be without his Flash t-shirt? Available from 80s Tees for $24. 2. Evolution is a fact, and that's my opinion. Evolution of Robots tee $17.99 from TV store online. 3. I think I like this Kablam t-shirt just because I wish it would happen to my computer sometimes $26 from Blank Generation Shirts 4. Shhhh….I'm Batman! $28 from TV Store Online 5. Rock Em Sock Em Robots, $19.98 from Stylin Online 6. Argh, monsters! $25 from Super7 Store
The stores are mostly based in the US, but rest assured, they ship internationally.
Nothing if not fully comprehensive, the site also lets you know which episodes the shirts were worn in should anybody question your fan credentials. You might not get any fashion points for wearing one, but the nerd respect gained surely outweighs that?