As something of a vintage geek I must confess I was rather excited to receive a copy of Knit Vintage by Madeline Weston & Rita Taylor.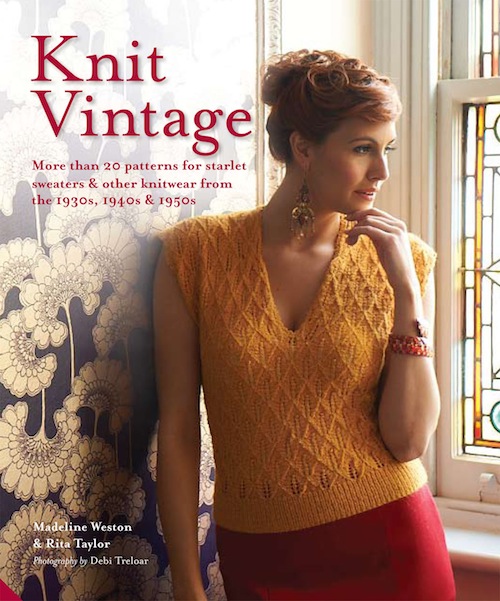 The book is jam-packed full of projects based on vintage knitting patterns from the 1930s to 1950s that have been updated by the authors to use modern yarns and sizings.
The book includes a range of designs for women – from a relatively simple lacy stole to more complicated cable, lace and fair isle sweater and cardigans – that are bound to delight vintage lovers and knitters of all skill levels alike.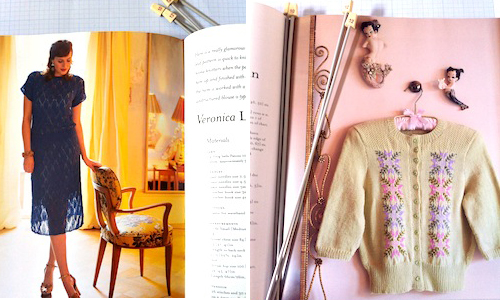 I would happily wear just about every single one of the garments in the book, but then I do have something of a penchant for starlet sweaters and twin-sets. It does make it rather hard to pick favourites, but the stunning Veronica skirt and top two-piece and the Hedy Tyrolean-pattern cardigan would definitely be at the top of my must-have list, closely followed by the Greta lacy wristwarmers and the absolutely divine Betty lace stockings.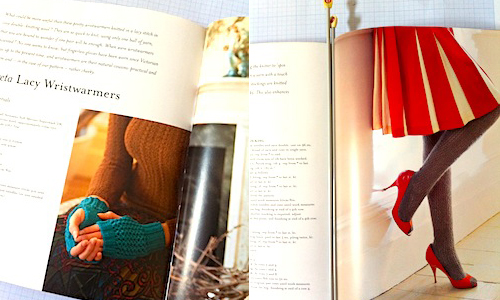 The projects in the book are beautifully styled and photographed by Debi Treloar. If you adore the vintage look but are less than proficient with a pair of knitting needles, I would heartily suggest you grab yourself a copy of the book to gaze at longingly. It should provide more than adequate inspiration to spur you on to learn to knit or, you know, just start hanging out at your local yarn shop and befriend yourself a knitting whiz.
Sadly, for reasons currently beyond my control, I have not yet been able to whip up any of the patterns in the book and impress you with my awesome needle skillz. If you have then please do share your creations with me in the comments section below, in return I promise to do my very best to not to seethe with envy!
Knit Vintage: More than 20 patterns for starlet sweaters & other knitwear from the 1930s, 1940s & 1950s by Madeline Weston & Rita Taylor is published by Jacqui Small. It retails at £20 and is available from all the usual places (or you can currently snap it up on Amazon for just £14!)