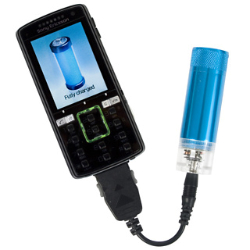 Remember the old days, when a Nokia 3310 used to last half a week? Good times.
New technology is a massive battery suck. It's the payoff for having constant access to your Twitter, Facebook, email and Angry Birds on the go. Which is why the average phone now rarely lasts longer than a day (if you're lucky).
It's not just phones either, cameras, laptops and iPods are our constant companions, yet often leave us in sticky situations with no power.
So, how do you get around the problem? For most people a portable charger is the best option, allowing you to give your phone a little extra juice for that vital phone call, or your laptop enough to send an essential email.
The Emergency Charger (right) from Firebox is only £6.99, plus it's small enough to shove in your pocket or clutch. It's powered by an AA battery, and you should get around half a phone battery charge out of it. Not bad for something so cheap!
Have a look at our four other suggestions for inspiration
Time-saver: Zipcharge Quick Charger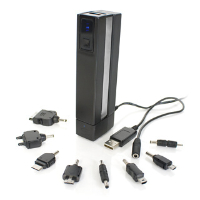 OK, it looks utterly dull, but the ZipCharge Quick Charger (Firebox, £39.99) claims to charge up at a ridiculously fast rate, meaning you should be able to plug it in 15 minutes before you leave the house to give you enough charge to juice up your gadget for the rest of the day.
In gadget terms, if you charge your Zipcharge for 15 minutes, you should have enough power available to give your iPod 20 hours of playtime or 10 hours of talktime on your phone (depending on the brand).
15 minutes too long for you? If you charge is for just one minute, you'll give your iPod 2 hours of playtime, your mobile 8 hours of standby time or your camera enough power for 80 photos.
Related: The Apple-friendly Innergie PocketCell phone charger
Green option: FreeLoader Solar Chargers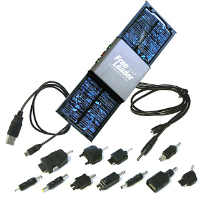 Eco-friendly chargers tend to fall into one of two camps: wind up or solar charged. Since you'll look like a loon if you use a wind up charger on the train, a solar-powered charger is probably your best option.
The FreeLoader Solar Charger kit (Firebox, prices start from £16.99) comes with a dozen adapters for all your gadgets and three different sizes depending on your requirements. Charge it up by leaving it in the sun (admittedly, something of a rarity these days) and it'll store the power for up to 3 months.
The FreeLoader should give you enough power for between 35 and 44 hours of stand-by time. From our experience, we've never managed to get the solar juices really flowing with this one, but thankfully you can charge it up properly via a plug first and let the sun keep it topped up.
Related: Powermat gadget charger review
Power up your Notebook: Power Gorilla Portable Power Device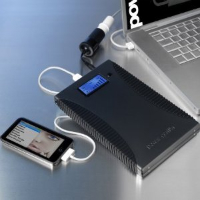 Now more of us are travelling with a netbook or notebook, there's more need for a portable charger to keep you going when you're in the middle of a spreadsheet.
The Power Gorilla Portable Power Device (Amazon, £119.62) isn't cheap, but it gets some of the best reviews on Amazon for a portable laptop charger. It should offer between 2-6 hours of power, depending on your notebook model.
You can plug your phone into the USB too, so you'll charge both gadgets at the same time.
Related: The offGRID™ Pro for iPhone
What's your favourite mobile charger? Tell us!