Sarah and Duck is one of my personal favourite Cbeebies creations so it was about time I did a round up of the best patterns.
It's a show that feels like it was made by hipsters for their groovy little hipster children. It's charming, sweet and funny: Sarah and Duck really are the coolest things to grace the children's channel.
Duck and his sleepy-voiced friend haven't been around all that long, but there are already some pretty nifty patterns out there for lovers of whimsy.
Sarah & Duck Pattern Round up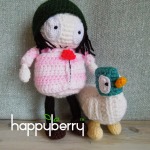 Happy Berry proprietress, Laura Ecclestone has put together a pair of patterns that have as much charm as the animated characters themselves. And then she's very kindly put them on her blog for anyone to use. Nice work, Laura!
This is a knitting pattern (see below for the crochet version). It's via the venerable Beeb itself. Thanks Aunty!
This is Jo's first pattern which is pretty impressive. My first pattern was something a little more… well… it was a mat. But we can't all be brilliant crochet artists. Luckily, the ones that are often share their patterns for free, just as Jo has done here. Thanks Jo!
OK so these aren't technically free patterns, but at £1.75 for each pattern on Etsy, you can't really complain. Tatie's done the pair and they are both very slick. Tatie's done a selection of Abney and Teal characters as well, in case you need even more hipster whimsy in your life.
This is a really cute present for any day dreamer in your life. And really, what child *wouldn't* want to be Sarah? Her best friend is a duck and she's on first name terms with the moon.

That's all I've managed to find so far. Let me know if you spot any. I'd especially like to see a patter for Scarf Lady and the Moon.
More Patterns