Scott Pilgrim, everyone's favourite happy-go-lucky 20-something comic book hero, will soon be with us again.
The sixth and final book — Scott Pilgrim's Finest Hour — is out on the 20th July. Meanwhile, Edgar Wright's movie — Scott Pilgrim Vs The World — will be released on 13th August.
The film stars Michael Cera as our hapless hero and Mary Elizabeth Winstead as Ramona Flowers, Pilgrim's baggage-laden girlfriend. And of course, Ramona isn't the only one with a selection of deranged exes: Knives Chau is Scott's love-stricken kick-ass ex, who spends a lot of time dangerously waving aroud the torch she still carries for him.
Dork Stitch
Needle-wielder extraordinaire, Allison Bates, has done a brilliant bit of cross-stitch in homage to the lovably unhinged Knives. In fact, Allison has done all kinds of marvellous bits of geeky, pixellated cross stitch on her EXCELLENTLY named blog, Dork Stitch.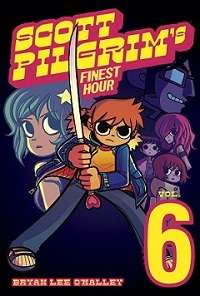 Free Patterns!
Even better, Allison takes the time to make FREE x-stitch patterns so that others may enjoy the nerdy wonders she creates.
As well as a free Knives Chau pattern, Allison has worked up a free Ramona Flowers pattern – though we're still waiting on a photo of the finished piece.
She's done tonnes of other dork patterns, including retro computer games characters like Hero from Dragon Quest VIII and a cross-stitch Pikachu. If you check out the categories, you'll see all kinds of other wonderful geek fodder.
Take a look! Dork Stitch. Allison's DeviantArt Page.
Pre-order Scott Pilgrim's Finest Hour: Amazon | Signed copies on Forbidden Planet | eBay
Scott Pilgrim Comics | Scott Pilgrim The Movie | Scott Pilgrim Ning group